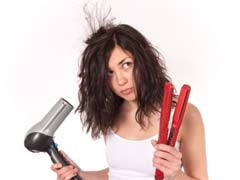 Get salon-quality blow-drying at home. Whether you're hoping to add some staying power to your look or volumize limp hair, the most common answer is heat styling. From fine hair to long and short hairstyles, we have a great guide to properly blow-dry your hair.
Typically the goal with longer hair is to add volume and body near the hairline while gaining smooth, silky strands from roots to tips. For shorter hair, the most common goal is to gain soft texture with volume that will hold.
Most people with fine hair aim to give the appearance that their hair is thicker and fuller with lasting volume. People with curly hair aim not for serious volume, but rather touchable, well-formed curls and waves.
Regardless of your hair type and style, there is one step every person should absolutely take for the most effective heat styling. You should always predry your hair a bit before beginning the styling process. Understandably, attempting to style sopping-wet hair will leave you exhausted, and it's a waste of time! Pat your hair with a towel and let it air dry for a bit to remove excess water. (You can use this time to get dressed and apply makeup!) The less time your hair is exposed to the heat of the dryer, the less damage you'll do.
View this guide to get the perfect blow-dry for your hairstyle! If you have any questions, please call us at 610-489-2049.