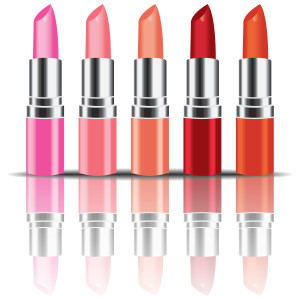 Lipstick or lipgloss, whatever your preference, completes a full face of makeup. It can add a pop of color or youthful elegance, depending on what shade you choose to wear. But how do you know what shade works best with your skin tone? We've got a few quick tips to help you find the perfect color!
Bold eyes? Go with a more neutral lip color. Bold lips and eyes can be overwhelming.
When in doubt, pick based on your skin tone! Olive skin tones are generally neutral and most nude, pink, red and orange shades will look great on you. Those with fair skin tones can have a lot of fun with bold reds and deep colors. They can play up your makeup and look fantastic! But you should avoid anything too light so as to not look washed out.  If you have a darker skin tone, deep plums, berries, and reds look awesome on you! Deeper shades will look naturally flattering.
If you want an everyday color, stick with something that's not much darker than your natural lip color. It puts more emphasis on your eyes.
Red lips. If you want them, wear them! Fair skinned people should look for a red with a pinky undertone. Ladies with olive skin require a classic, bold red, and dark skin needs a deep red.
Regardless of anything – wear what you feel comfortable in! If it makes you feel good, then you've probably found the perfect shade for you!