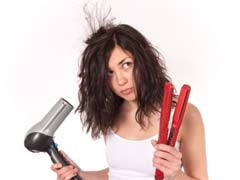 Nowadays, it is exceedingly common to use heat to style your hair by straightening, curling, crimping, etc. This makes hair look great, but it can put you at an increased risk of damage.
Signs of heat damage:
Increased splitting and breaking of the hair
Hair feels dry and dull
Loss of natural hair texture
Why does heat damage occur? Hair appliances can cause hair cuticles or the outer layer of hair strands to break off from surrounding fibers. Additionally, use of excessive heat steals moisture away from your hair, causing it to become very dry and exhausted.
To help repair damaged hair, there are numerous steps you can take.
Apply heat protecting conditioner to hair before applying heat. Protecting conditioner typically comes in lotion or spray form, and can lessen the breakage of hair cuticles.
Use leave-in conditioners or get a deep conditioning treatment. Both help your hair to retain moisture during the application of heat.
Allow hair to air dry and leave it slightly damp when applying heat. Air drying hair will eliminate unnecessary heat through the use of blow drying. Damp hair at the time of heat application can help retain moisture and prevent damage of hair.
Cut back on the use of heat to style your hair. There are other ways to give your hair a bouncy curl or beachy wave. Try using dry rollers or leaving your hair in braids to get a different look.
If you have further questions regarding heat damaged hair, give us a call at Avalanche Salon and Spa – 610-489-2049.