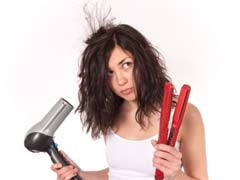 We're back with part two of our bad hair habits and how to solve them! Below are more habits that you probably do and do not realize. Let's take a look.
Using Regular Elastics – Instead of using a regular elastic that snags the hair when you loop it too many times (and tears when you remove it), try using hair ties similar to "Bungees." With these improved hair ties, you hook one side into the ponytail while you're still holding your hair, and wrap the bungee around and clasp the ends together.
Brushing from Roots to Ends – you are actually breaking your hair when you start brushing your hair at the roots. The best way to brush your hair is to start at the ends, remove the tangles there first, then work up towards your root. This helps to eliminate frizzy broken bits and split ends!
Cutting Your Hair to Make It Grow – Cutting your hair in hopes that it will help it to grow only adds months onto your growing time. If you'd like your hair to grow, try fewer washings, less heated styling/blowdrying, and more deep-conditioning.
Towel-Drying Your Hair – towel-drying your hair roughs-up the cuticle. Closed cuticles reflect light and your hair appears smooth and shiny. Open cuticles makes hair look dry, dull, and coarse. If you're going to towel-dry your hair, wring it out moving downwards from root to ends.
Dry Shampoo – if you use dry shampoo and/or texturizing spray more than twice a week, your scalp is getting dehydrated. This makes your hair weaker and more prone to breakage.
If you have any questions or are interested in booking your next appointment (to get rid of those pesky split ends!) give us a call at 610-489-2049. We look forward to hearing from you!