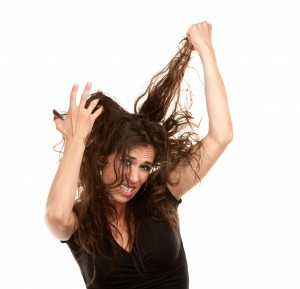 We've felt the first touch of cold weather snap at us, and it's only going to get worse, which means your hair is going to need some extra care and attention!
Intense Treatment – dry air and harsh winds cause essential moisture to be lost which will inevitably leave your hair feeling and looking drab. Typically in the colder months you should look to use an intensive conditioning treatment. It works best if used weekly to help hydrate your hair and give it key nourishment. Better intensive conditioners will target hydration or frizz control rather than superficial results like "creating shine." It's definitely worth spending a bit more in order to get amazing results that will last all week.
Weather Protection – you rotate your makeup and skincare products with the seasons, why wouldn't you rotate your hair products the same way? You need stronger styling products during the winter months to keep your hair in place. Weatherproof hairspray can help protect you from that awful windswept look. Stronger products can help keep your hair styled the way you want it for longer, all while protecting it against the winter elements as well as reducing frizz.
No More Split Ends – Split ends are definitely the worst hair care crisis, and the constant use of electrical products does not help. The ends of your hair are the first thing to expose decline in condition, so if you don't have time for a regular trim, try using products that will temporarily help to solve your split end problem.
What do you do during the winter months to protect and manage your hair? If you have any questions or concerns about the health of your hair, please feel free to give us a call at 610-489-2049. We'd be happy to help!