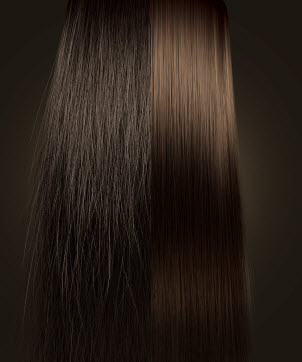 Our Keratin treatment is vastly different from conventional straighteners or relaxers which typically break the bonds within your hair's structure, causing each strand of hair to alter and remain permanently straight. Keratin does not break the bonds, but rather allows for smoother, healthier looking hair that can be styled both wavy or straight.
Keratin treatment is versatile and can be used effectively on all hair types!
How does it work?
The first step removes surface buildup and prepares the cuticle, lifting overlapping layers allowing for penetration of the treatment.
As we apply the treatment, the keratin enters into the cuticle which helps repair damage and smooth each strand from the inside out.
The conditioning agents nourish and strengthen your hair all while restoring its smoothness and shine.
The hair shape is further adjusted with the assistance of heat—first with a blow-dryer and finally with a flat iron. This final step helps seal in the treatment to create a humidity-resistant finish.