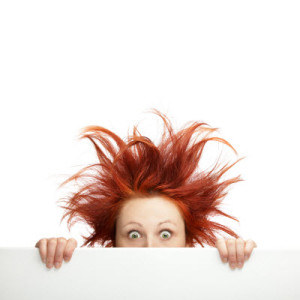 The cold bite of winter has begun to nip at us and our hair.  The temperature has dropped and it would seem that any moisture in your hair is fading fast.  We all know what happens when the winter air sucks out the moisture in your hair: static.
It's tough to manage static, but we've got some easy tricks for short and long term static taming! Lose the static and keep your hair looking beautiful all throughout winter!
1.       Humidifier
Humidifiers aren't just good for keeping your skin from drying up; they're also great for keeping moisture in your hair. Humidifiers work to put moisture back into the dry air which allows for your skin and hair feel healthy.  Humidifiers can also help ward off winter illnesses!
2.       Heat Protectant Spray
Don't leave your house this winter without drying your hair! If you do so, the moisture in your luscious locks will be sucked out and you'll be left with dry, static-y hair. However, drying your hair can be damaging as well. Apply a heat protectant spray before using a hair dryer or straightener. Spritz it all over your hair, especially the ends, and go about drying and styling your hair like usual.
3.       Dry Conditioner
Dry conditioner works as a de-tangler and re-hydrator, all while adding some shine in the process! Only spray to the bottom half of your hair or you may end up with too much moisture at your roots.  A quick dose before you head out into the wintery cold is all you need!
4.       Dryer Sheets
We've all heard this one before – but it actually works! Run a dryer sheet along the length of your hair to combat static. Wrap your combs/brushes in dryer sheets overnight to keep static off of them as well!
5.       Hand Lotion
In a pinch, a little bit of hand lotion goes a long way! Squeeze a dot onto your hands and rub them through your hair. Not only does the lotion help tame any static in your hair, it also gives your hands a bit of extra moisture!
If you have any questions or concerns regarding the health of your hair this winter, please call Avalanche Salon and Spa at 610-489-2049! We'd be more than happy to help!