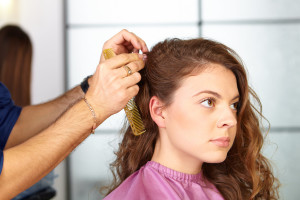 Bobby Pins. You probably have them all over your house, your purse, jacket pockets, car, and who knows where else! Bobby pins are one of the best tools for women and their hair. They can be virtually invisible but change your entire look in a matter of seconds!
We rely on bobby pins to transform our look at home or on the go. But do you know the best ways to use them? Okay, okay, we'll dish, but only because we love our clients so much!
The best/proper way to use a bobby pin is with the wavy side down. The ridges are there to help keep the pin in place!
If you have straight, fine, or slippery hair, spray your bobby pins with hairspray. You can also use dry shampoo or texture spray. It makes the smooth surface a little rough to help keep those pins in place!
While it doesn't seem possible, sometimes one can be just enough! But that's not always the case, and you know what they say about strength in numbers.
There are so many quick hairstyles you can transform simply using bobby pins. Here's a few:
–          The pompadour – take a triangular section on hair on the top of your head. Twist or fold it over, then slightly nudge it forward. Secure with a bobby pin and hairspray.
–          Chic topknot – this is the best after your gym workout. You'll need very few bobby pins to turn it from a mess to chic.
–          Front braid or twist – these are super simple! Braid or twist your hair starting from the center front and secure with a bobby pin
For being so small, bobby pins sure give us a lot of power when it comes to hair! They're a great tool to always have on hand.